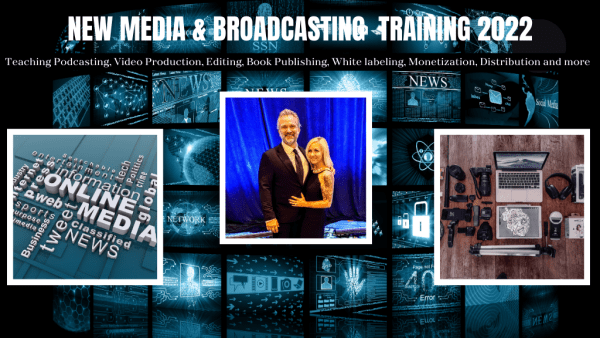 New Media Training from 2022
Join over 5,000 students who have already benefited from this comprehensive training program! Our training covers a wide range of topics to help you take your content creation and distribution skills to the next level.
During this training, you'll learn how to create engaging podcasts, blogs, and streaming TV broadcasts. We'll show you how to effectively distribute your content across multiple platforms, including video, audio, and print channels. You'll also gain valuable insights into website development and monetization strategies.
In addition, we'll cover topics such as digital art creation, booking guests for your content, book publishing, and audio and video enhancement tools. Our goal is to give you the tools and knowledge you need to succeed in today's competitive media landscape.
Once you complete the training, you'll have the opportunity to schedule a one-on-one training session with Joshua and Jessica. During this session, we'll provide personalized guidance and answer any questions you may have.
Don't miss out on this opportunity to enhance your content creation and distribution skills! Sign up for our training program today and take your media career to the next level. If you have any further questions, please feel free to email us at joshua@joshuatberglan.com.
Best regards,
Joshua T Berglan & Jessica Linn
Choose your payment plan
USD  1.99

- One time payment