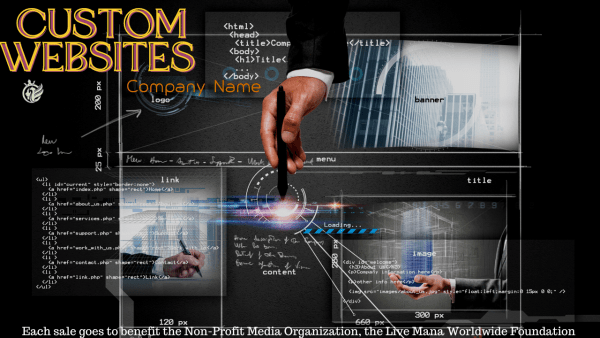 Custom Website
Whether you're looking for a custom website or seeking to build your own "Media Company in a Box," we've got you covered. Our team of experts is here to help you create a cutting-edge online presence that reflects your unique brand and vision.
When you partner with us, you'll get personalized attention every step of the way. We'll work closely with you to develop a customized strategy that meets your specific needs and goals. From website design and development to content creation and distribution, we'll help you establish a powerful online presence that drives results.
Best of all, when you purchase our services, you'll also be supporting a great cause. Each service purchased goes towards the Live Mana Worldwide Foundation, a 501c3 non-profit media organization dedicated to creating positive change through media and storytelling.
To learn more about how we can help you take your online presence to the next level, click the link below to schedule a free consultation. We look forward to hearing from you soon!
Choose your payment plan
USD  3,333.33

- One time payment